MANILA, Philippines – A hike to Masungi Georeserve's Discovery Trail has been in my bucket list even before the pandemic, but I never got to do it because there is always a long waiting list of guests who want to visit the conservation site. So when a friend posted beautiful pictures of his family's hike recently, I immediately checked Masungi's website and booked a schedule for my group. To my surprise, it was easy to book a visit, although with stricter safety protocols, and you can now find plenty of available dates from January 2022 onwards. A booking requires a minimum of five people in a group.
And of all the dates, I happened to choose the day Typhoon Odette made landfall in Palawan after battering parts of Visayas and Mindanao. Although Metro Manila was not in the storm's direct path, Odette cast dark clouds and blew gusts while we were exploring Masungi's limestone peaks, making our hike an experience to remember.
Tucked in the rainforest of Rizal, Masungi Georeserve is a multi-awarded conservation area and geo tourism destination. In the 1990s, Masungi's limestone rocks and forests were devastated by rampant logging. Through a joint venture project between the DENR and Masungi Georeserve Foundation's mother company, Blue Star, the sustained protection of the threatened landscape is assured. Masungi derives its name from the word "masungki" which translates to spiked, an apt description of the sprawling limestone landscape found within the reserve.
Driving Along Baras in Darkness
I booked a hike that started at 6:00 in the morning but as we were so excited being first time visitors of Masungi, we left Manila at 3:30 in the morning and arrived on the site an hour early. We took Marcos Highway which was the easiest and fastest route to get to Masungi.
My family and I have taken many road trips to Tanay but driving along the winding roads of Baras in darkness with nothing but the car's headlights to illuminate our way in a rainforest as it drizzled gave me the creeps. Thankfully, no one said a word while my brother and I looked closely for the Masungi signage along kilometer 47. I felt relieved when we finally reached our destination, and a park ranger who was standing at the parking entrance let us in.
Typhoon Odette Threatens
While waiting inside the car at the parking area, I checked the messages on my phone, which fortunately had signal, and informed my office colleagues that I took a leave that day and would be offline in the morning so they would not be able to reach me until after lunch. I then learned from our editor-in-chief that Odette had intensified into a super typhoon, drawing comparisons to Yolanda and Sendong.
With three millennials in tow (my nephew, niece, a family friend) plus my brother, I told my group to pray, brace ourselves for a wet and cold hike, and checked if each one brought a rain jacket. Everyone did and I was actually the one who forgot my rain gear! Well, at least I was wearing my water proof, all terrain hiking boots.
Start of the Hike
The reception area is a good seven to ten-minute walk along a path strewn with cosmos, a plant with yellow flowers. Despite the cold, we were immediately engulfed by a sense of calm as our lungs inhaled the fresh mountain air while listening to the sound of crickets and the gentle sway of bamboos. After a minute or two, a shed came to view, which happens to be where the comfort room is for those who feel the call of nature.
A couple more minutes later, a poster of the park's rules was displayed for all to see, and a little further down the road was the welcome signage to Masungi Georeserve, showing photos of how the forest has been healing for more than two decades. The seven-minute walk to the reception area was a good warm up exercise because of the up and down stairs.
The receiving area and visitors' sheds or Silungan are situated in a beautifully landscaped rock garden. Upon reaching the foot of the stairs, a conservationist warmly welcomes you and takes you to one of the sheds for a briefing on the geopark's rules and policies.
We were given helmets as protection because the hike involved passing through rocks and going under tight rock gaps. With helmets on, we were introduced to Vanessa, the park ranger assigned to our group who acted as our tour guide and photographer at the same time.
Park rangers are not allowed to accept tips from guests but you can leave a donation in the community box if you wish. Guests must adhere to the absolute "leave no trace policy" which means no littering on the trail and whatever trash you have, you take it with you. Smoking and picking of plants are strictly prohibited, and silence is observed throughout the trail so as not to disturb the wildlife.
At the jump off site, you can refill your water bottle and use the restroom one last time because there are no toilets along the trail.
Exploring the Discovery Trail
Our group took the Discovery Trail which is a 3-4 hour hike through the conservation area, giving us a close encounter of the karst or limestone terrain. The hike may be shortened or lengthened depending on the group's preference and capacity. It was a good thing that we were all fit and pumped up enough to trek even as Odette loomed.
One of the trail's most popular attraction is Sapot ni Ric or the spider web. Named after the park ranger who built it, Sapot is a metallic platform which allows visitors to walk on suspended netting above the karst and get a 360 degree view of the Sierra Madre mountains and Laguna de Bay on a clear day. Only typhoon Odette's grey skies were visible that morning but we nonetheless had fun taking photos on top of Sapot. There are no railings to hold on to as you walk on the suspended netting, so you need to have a good balance, otherwise, it's goodbye.
Tatay and Nanay are two of the tallest peaks in Masungi connected by hanging bridges, rope courses, and eco-trails eliciting more adrenalin rush and providing added challenge. On one of the hanging bridges, Patak, which resembles a cable car made of wood and shaped like a water droplet, can be found and serves as a rest stop with hanging benches for visitors to sit on.
As we were hiking to Ditse (which means elder sister), rain began to pour, drenching us, but we kept on. Ditse provides a good vantage point to view the trail going to Tatay's summit. The way down is through a rope course called Duyan, a giant rope hammock spanning a few hundred feet. It was very cold as the winds blew, so we held on to the rope gingerly, calculating each downward step back towards the mountain. When you reach the bottom of Duyan, you grab hold of tiny rope handles hanging over your head as you gallop to the other side. This is one of the most photographed rope courses and a fantastic upper and lower body workout!
Masungi Georeserve also contains several caves, some of which serve as shelter for animals like parrots and monkeys, while other caves feature stalactite and stalagmite formations like the Yungib ni Ruben. Lit by candles and smelling of ilang-ilang, the cave invites meditation. It has a man-made wishing fountain and the path to Tatay's summit is through here.
Tatay is the tallest peak with rock formations that are seemingly piled on top of the other. Much to my surprise, the hike going up was gentle on the knees because there are concrete steps and railings to help you go up and down. Tatay's roof deck offers an immaculate 360-view of the Sierra Madre mountain ranges; it is paradise found!
Connected to Tatay through a hanging bridge is Nanay, the second highest peak with an equally unsullied view of the mountains and has five limestone rock formations connected by bridges. There are stone benches and hammocks where visitors can rest, meditate and breathe in more of nature. This is also a romantic spot for proposing marriage.
The final leg of the trek is a descent through Bayawak which is a steep rope shaped like a monitor lizard and resting at the side of a tall rock edifice. You need to crawl like one and hold on to the rope tightly as you climb up or down its slender body.
A hot towel and complimentary snack of our choice composed of chicken sandwich, nilagang saba with honey, slices of cucumber with vinegar dip, and fresh calamansi juice awaited us at Barangay Dahon, a rest stop at Liwasan.
From Barangay Dahon, we exited through Sawa, a hanging bridge shaped like a snake to go back to the visitors' shed.
Smitten, Energized and Refreshed
I have been hiking since my mountaineering days but what impressed me the most about Masungi Georeserve is how it has been able to heal the forest, thanks to the stewards who are taking care of it. The whole experience itself with  Odette as an uninvited guest is a one-of-a-kind experience which you will not get in any ordinary outdoor adventure. The trail is so clean, the hike is safe, a walk can be enjoyed in silence, there is no crowding on the trail, the trek appeals to people of different levels of fitness and most of all, you come out of the hike knowing something about conservation and feeling refreshed and energized.
For a country that is declared as one of the biodiversity hotspots in the world and in an area where 70% of the forest cover is lost, we need this kind of sustainable geotourism to create a balance between man and nature.
I will definitely come back to experience the trail again when the weather is better and will make sure to bring my rain jacket just in case it rains. Until next time, Masungi!
————–
Imee C. Alcantara is the Head of Operations/Chief Operating Officer of Inquirer Interactive, Inc.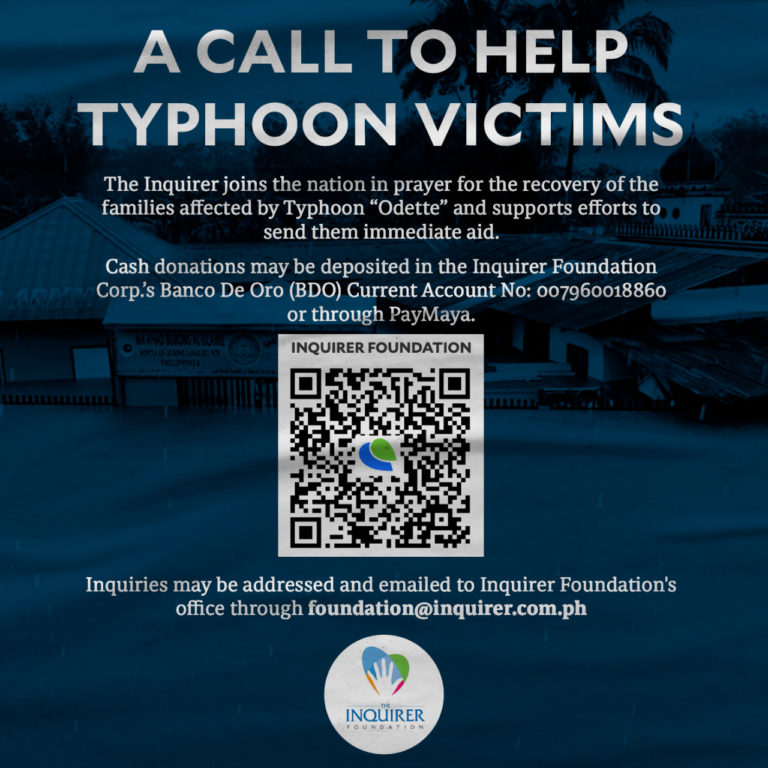 Read Next
Subscribe to INQUIRER PLUS to get access to The Philippine Daily Inquirer & other 70+ titles, share up to 5 gadgets, listen to the news, download as early as 4am & share articles on social media. Call 896 6000.