Chuck and the team traveled to southern Indiana to explore animals at a one-of-a-kind wildlife park. Plus, they checked out an iconic dining experience in Anderson.
PAOLI, Ind. — Indiana is full of incredible places waiting to be explored, so Chuck's latest Big Adventure has him checking out great destinations close to home!
Wilstem Wildlife Park
The Wilstem Wildlife Park traces its animal-loving roots all the way back to 1915 when the owner of the property showed beautiful horses to his neighbors. 
Since then, this facility, located between French Lick and Paoli, has hosted hundreds of thousands of animal lovers, all longing to have an encounter with nature. 
Current owner Jerry Fuhs has spent the last 32 years expanding the exhibits, adding more animals and giving guests a chance to have even more memorable experiences at the resort officially named Wilstem Wildlife Park and Drive-Thru Safari Park.
Featuring elephants, kangaroos, grizzly bears and sloths, guests get a chance to see all kinds of animals up close and personal in a way that will make a trip to the park a bucket-list experience.
Our Big Adventure crew was met at the door by three 9-week-old baby otters. They are boys — and they were ALL boy — climbing over each other and raising a ruckus. Cute and cuddly now, they are growing and will soon be too big to hold and play with. They are now available for viewing and personal encounters with guests.
Giraffes at Wilstem Wildlife Park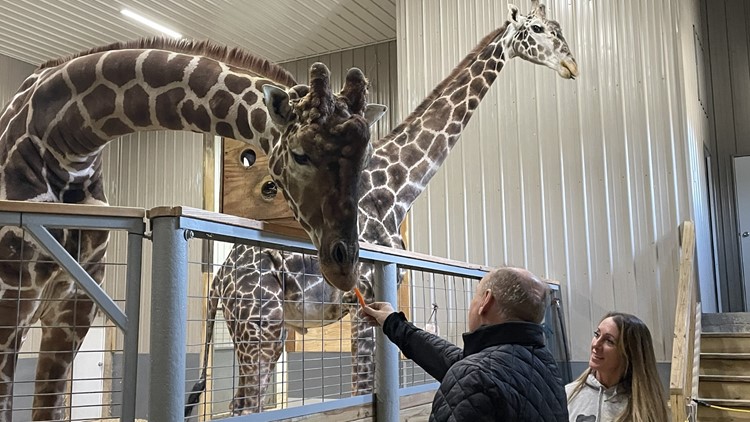 By far though, the most jaw-dropping encounter is with the two tallest Hoosiers, Burt and Marchello, the parks two tree-topping giraffes. 
As part of the encounter, visitors are taken into the barn where the tall guys are housed. Yes, they are huge and beautiful and larger than life, but most people who meet them are really amazed at the length of their tongues. 
"They have very long tongues so they can get leaves off the tree. You can see that their tongues are blue, and that's so their tongues don't get sunburned," said Rebecca Krebs, director of animal operations. "You'll notice on several that they have bluer tongues, and that's because they're constantly out grazing or pointing leaves off branches. And of course, in Africa, there's all that sunshine, and they're tall, and their tongues are out all day long, and that will help prevent them from getting sunburned."
Both Burt and Marchello have been known to give kisses to visitors feeding them carrots.
More animals at Wilstem Wildlife Park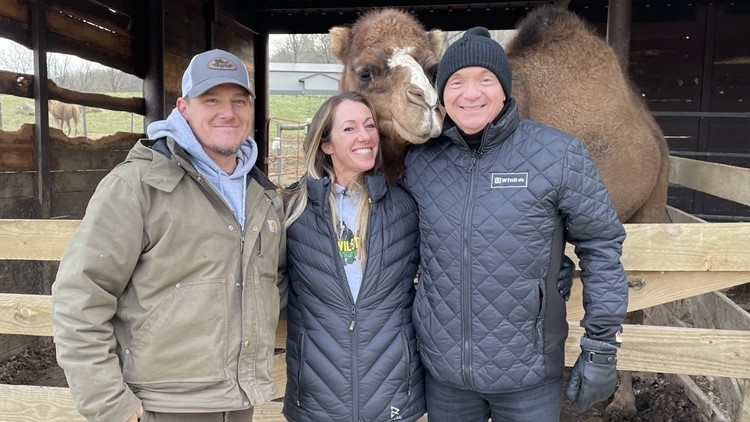 There is a petting area where young children can see goats and kangaroos, and if they are lucky, get to pet an animal that is loved here but considered a nuisance in Australia. 
"We have a whole mob of kangaroos here [of] all different ages. We do have several joeys in the house, so we're hoping [in] spring, they'll start having some little heads poking out," Krebs said. "A lot of people wonder why they're called red kangaroos as well, but these are red kangaroos. She's a little bit of red by her ears now. The male will secrete a red oil between his chest and arms that will almost look like red paint, and that's where they get the name red kangaroo."
And what about the common belief of kangaroos kicking? Krebs said its a rare occurrence because the Aussie imports typically just want a snack.
The drive-thru safari gets you close to dozens of different species, such as bison and emus right next to your car.
Open during the peak of COVID-19 in 2020, this is a way to stay socially distant and safely enjoy the beauty of these majestic creatures.
Grizzly Ridge is the newest addition to the park and destined to become the most popular attraction. 
For decades, Jeff "The Bear Man" Watson has been a bear trainer. He has worked in exhibitions, movies, and TV shows, like "Walker Texas Ranger," late-night offerings and 2013 reality series "Porter Ridge," which was shot near Spencer, Indiana.
Watson especially likes this new job because he works hands-on with his bears, and guests can safely see him interact with these huge creatures. For Watson, this is the perfect opportunity to introduce people to the real nature of these giant animals.
"I think that you have to see something to really appreciate it oftentimes, and if you've been inundated with negativity with bears, then it's easy to say, 'I want them gone,'" Watson said. "I think that when people see them, [they say] 'You know what, I kind of like that animal. I want to learn more about it and want to see how I can protect it.'"
Grizzly Ridge at Wilstem Wildlife Park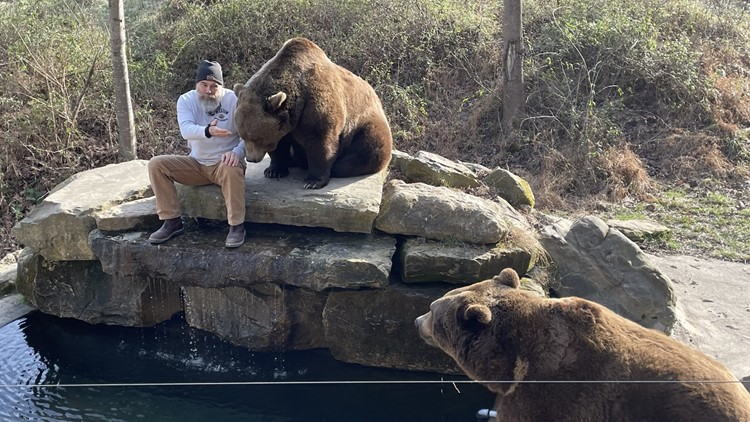 According to Watson, Indiana once had black bears, but hunting and logging wiped them out of the Hoosier state. Protect yourself and protect the animal. 
"I think if you tried to reintroduce them now in Indiana, [the] majority of people will be too scared, [unless] you are raised around them," Watson said. "Pennsylvania has many black bears. As a matter of fact, they harvested over 4,600 black bears in 2019 just to manage the population they have, so those people understand what the bears are and once you understand it, a lot of times, you're not as scared of it."
In the grizzly encounter, visitors see Watson interact with his two bears, Bob and Screech. He knows their cues are rewarded with treats, and they know exactly what to expect from him — that's why his relationship with them works. However, Watson hasn't forgotten they are dangerous, wild animals. 
"In this environment, I like the bears. I do kind of like pushing the envelope a little bit to see what I can do next," Watson said, noting that Bob and Screech are triplets, and their sister is going to have cubs in a few days. "I want to see how close she'll let me to them. She and I have a great relationship, but things change when you have cubs, and I don't have a death wish."
The grizzly encounter, drive-thru safari and petting area aren't the only things waiting for you at Wilstem. 
We spent the night in one of the modern cabins and enjoyed the quiet, peaceful break from the noise of the city. There are several different packages available, and a gift shop and snack bar are part of the Wilstem experience, too. 
What a wonderful part of our Big Adventure and a must-visit for anyone wanting to get close to some of the world's most beautiful animals.
Bonge's Tavern
Don't call it a cult following — they wouldn't like that. Bonge's Tavern in tiny Perkinsville, Indiana, does have a following, and it's unique.
This tiny restaurant with the fantastic reputation, prior to the COVID-19 pandemic, was so popular that guests tailgated until they had a chance to go in the small dining room and have dinner. That's right — tailgate with corn hole, lawn chairs and refreshments of all kinds.
Now, the restaurant, with the world-famous pork loin and freshly flown in Pacific fish, takes reservations.
It may have killed the tailgate buzz a bit, but things move much more smoothly, and the extracurricular activity was never really a part of the plan, according to owner and executive chef Tony Huelster. 
"It just kind of happened after our first summer when we really kind of exploded with reputation. We didn't have any place to park, so they were parking up and down the streets, wherever they could go," Huelster said. "Fortunately, a year later, I was able to acquire the lot next door, and we opened that up and fenced it. Since we were not [taking] reservations and never had been, I didn't see any reason to change that, but you know, on Fridays and Saturdays, oh my gosh, everybody showed up since we have the fence and we don't allow people younger than 21 — even in the parking lot. We just let them kind of do their own thing out there. That's kind of how it all got started."
Food at Bonge's Tavern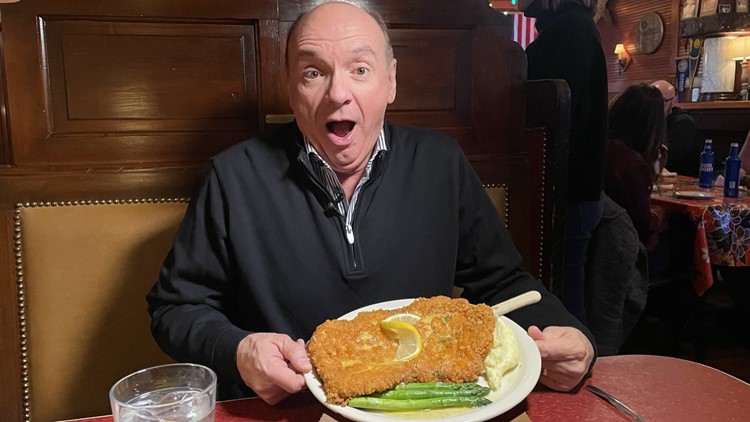 Bonge's menu is reminiscent of a premium restaurant with a maître d', but here, the servers wear T-shirts and blue jeans.
"We've got our funky tablecloths. I never wanted to be a sandwich place. I spent most of my career with professional chefs and learning a good trade, so I wanted to highlight my skills and my tastes but in a comfortable, less stuffy environment," Huelster said. "We're a scratch kitchen — everything we make, including all our desserts, all our salad dressings, everything's from scratch, and you know, I buy the best stuff I can."
Huelster often heads home after the restaurant opens and things have settled down, leaving the business in the hands of his daughter, Ingrid Pickett.
The menu is put on a chalkboard and does occasionally change for an opportunity for regulars to try something new. 
Speaking of regulars: They kept Bonge's Tavern alive during the COVID-19 lockdown when the restaurant offered takeout orders.
It's pretty much back to normal at the restaurant now with tables spaced out a bit more, but the menu is just as good. 
Once things warm up, we may see a few folks return to tailgating in the Bonge's Tavern parking lot. After all, would it be Bonge's without that?
Try it — it's a crazy, unusual, wonderful Indiana adventure you just have to make.
What other people are reading: